Goddamn it.
I love it when I've written for a few minutes and I press back or something as equally idiotic and I erase what I've written. Ugh. I'm not a very big fan of myself lately. Is it old age kicking in? I feel "dumber" as of late. No, I haven't been drinking, or smoking, I just feel sluggish at times. *shrugs shoulders* I don't know, anyway, this was nice to wake up to All 7 Rescued From Russian Mini-Submarine, don't get me wrong, not as nice as waking up to this: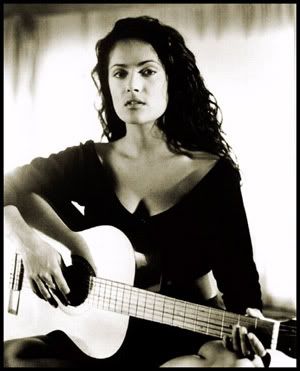 But nice nonetheless, as Hannibal would say "I love it when a plan comes together!". Ok. Anyway, this post is taking entirely too long. Yesterday, last night, etc. Kicked ass. Seriously. The Cubs got worked, as usual, and I was busy with the fam so I didn't think much was going to be happening on this particular saturday evening. Ivet had called earlier about meeting her and her friend later so we could finally sit down and talk about the screenplay she wants me to work on. It wasn't happening. Between my up and down schedule and her umm...flakiness, it's going to be a while before we have a meeting, heh. I already had made tentative plans with Stine (
not_a_sycophant ) and luckily she called me because my mind was all over the place. I really needed to get the hell out of dodge for a while so I drove over to her place, and this is where our story begins.
In theory, she lives about 45 minutes away. No biggie. I've been over there a few times but it's always been from other places, Kris's place (
hot4scott ) or from downtown, etc. Needless to say, I made a wrong turn somewhere. I "somewhat" knew where I was because I got lost the last time as well, hahaha. So, after enduring a tollway from hell (it just wouldn't move) and figuring out where the hell I was, I eventually arrived at my destination. We were going to try and catch Wedding Crashers but we still had some time to kill so we hung out in Naperville. I felt like a tourist, heh, "Leave the city much, Gil?". It was nice just walking around, Stine was giving me the tour, they have a nice 9/11 memorial with actual pieces of the towers, the pentagon, etc. An office building with various copies, albeit random, of historical documents. (Bill of Rights, Declaration of Independece, World War II official surrender, presidential speeches, etc.) All in all, the riverwalk was cool, one of the bridges was very "Dawson's Creek"-esque. Hahahahaha, I really need to get out more. However, the best was yet to come.
We cruise over to Hollywood Blvd and guess who's there...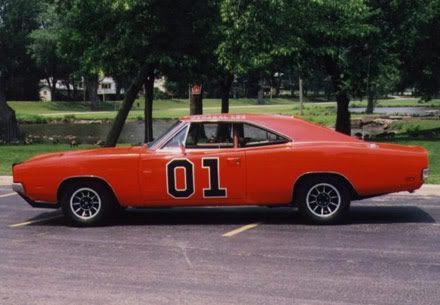 and the orignal Daisy Duke. I know it wasn't the General Lee, but it was an exact replica. It was awesome. I guess Catherine Bach was there signing autographs, selling shirts or something, I'm sure she's in town due to the comic-con, but I didn't pay her any attention. When I wasn't babbling about the car I was looking around the place which is pretty cool. They have vintage posters all over the place, street signs, the entrance looks like the Chinese Theater in Hollywood and the best part is that you can have dinner and drink while you watch the movie. It was like heaven. Alcohol at the show! Comfy leather chairs! Amazing! Like I said, I need to get out more, heh. In retrospect, I probably wasn't very good company, I was always looking around or dumbfounded, friggin' tourist. Towny. Heh. So the show starts, I order Bill and Ted's excellent nachos and have a few Blues Brothers. (blue curacao with gin, rum, something else) Wedding Crashers was pretty funny, on par with most of the Frat Pack's other flicks. It had a lot of good lines and was pretty out of control at times, but y'know, it was predictable. We leave the theaters and I drop Stine off at home and I attempt to make it back to the Chi.
A right here, a left there, so far so good. I even check out the street where I made the wrong turn so next time I venture out there, I won't get lost. I'm making great time and I think I have just enough gas to make it back to Rogers Park when the toll booth comes up. No problem right? It's close to one in the morning, no traffic, barely any cars on the road. As luck would have it I end up in the lane from hell. The guy two cars ahead of me is stuck. The gate would lift and I really can't switch lanes, fortunately it didn't take that long. Next car goes through, no problem, I pull up, throw my 80 cents in and...nothing. The fucking gate won't lift. People are honking, the people manning the booths are a few lanes over, ugh. Eventually they see me and they lift the gate but that sucked. Not as much as hearing BEEEEEEEEP a few minutes later. I'm running low on fuel. Fuck. I don't see a gas station anywhere and I know there aren't any oasis stops left. Nice. I keep going, I'm tempted to get off on every exit, but I push on. I see a Citgo in the distance, I think it's right off the 25th street, possibly 17th street exit. I slide on over to the right lane and exit and roll into the gas station. Of course I seem to be in a shady ass neighborhood. Naturally I'm rocking the shaved head and for some reason that seems to garner some unwanted attention. I keep to myself, jump out of my baby and saunter in to pay. No joke, there's this crackhead looking woman, I guess, I really couldn't tell, buying condoms. A guy dressed like a pimp walks in right after I do and heads to the counter. I'm picking up something for the road as he pays. As I'm about to pay, the crackhead comes back in and starts buying candy, now and laters, gum, lollipops and shit. She starts trying to bargain with the attendant. Over twenty cents worth of fuckin' candy. Fuck. Eventually she turns to me and says "Hey big brother, you got some change?" I'm reply that I will if I can fuckin' pay. Heh. She leaves with her candy, I now realize she's like maybe in her teens, and she is indeed a she, maybe even younger. At least mentally, crazy shit man. I get my gas and I pick up some:

I swear I don't even remember the last time I had Toffifay. I don't know if they don't sell it around here as much or what, but it'd been a while. As I'm pumping the beast full of gas, things seem to be "happening" around me. I can't put my finger on it, but I've got enough experience from work to know when people are "working". I swear it took forever to fill 'er up. I finally finish and peel the hell out of there.
I guess it wasn't so bad, I'm used to it of course, it's just unsettling when you're out of your element. The rest of the ride home kicks ass. I had a great time and as luck would have it, they play some fuckin' great songs the whole drive home. Seemingly commercial free. Nirvana, Ozzy, NIN, I'm racing down the expressway, singing along at the top of my lungs. *coughs* dork *clears throat* No matter how many times I come back to the city, I still love the moment you get that first glimpse of the Chicago skyline. Best fuckin' city on the planet, I don't care what anyone says. She's a beaut. I take lower wacker (which doesn't remind of Star Wars as much anymore, now I think Batman Begins when I'm down there) and then transfer over to Lake Shore Drive. The drive home reminded me of D's last party, for some reason that night I remember they played all the hits as well. I get home, find a spot relatively close, and knock the hell out. It was a good day. I need more of these. Hope you're all having a good weekend.
~ Gansta Gil